Gallery Fashion Exhibition
Double the giving, double the love
Responsible Author: LeDante Walker | Hot Springs, 08/06/2017, 01:34 Time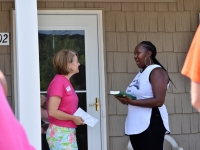 USPA NEWS -
Garland County Habitat for Humanity Executive Director Cindy Wagstaff presents new homeowner Heather Phillips with a bible during a double dedication Aug. 5th 2017.
Iraqi situation
Responsible Author: Abdulwahab Al-Qassab | Iraq, 07/30/2017, 00:14 Time
USPA NEWS -
Introduction
On July 9, Iraqi Prime Minister Haider al-Abadi claimed victory over the Islamic State in Iraq and the Levant (ISIL, or Daesh), after fierce fighting for nine months to retake Mosul, the second largest city in Iraq. ISIL is out, though it is not completely defeated. It still has strongholds in Hawija, along the Euphrates River, and in Tal Afar, the Turcoman city to the west of Mosul. Tal Afar is the city that controls the highway to Raqqa, ISIL's Syrian stronghold. After so many defeats, ISIL's capabilities have become diminished from what they were in 2014, and the militant group is much poorer than it once was after defeating the Iraqi army and storming Mosul.
| | |
| --- | --- |
| | RAHMA-SOPHIA RACHDI |
| | Ruby BIRD |
| | Yasmina BEDDOU |
| | Daren Frankish |
| | Robbie Merritt |
This will be shown to users with no Flash or Javascript.